Disposal Strategies
For disposal of known waste, GRx partners with various programs to properly handle these products. For more information regarding our waste programs, please contact our Customer Service Department at 1.800.473.2138.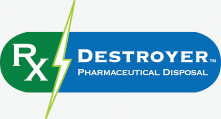 Rx Destroyer All-Purpose Formula
Formulated to dissolve all forms of non-hazardous* medications so that the active ingredients can be adsorbed and neutralized by activated charcoal.
Rx Destroyer LIQUIDS + Hardener
Formulated for disposal of ONLY non-hazardous liquids and syringe medications.
Liquid medications adsorbed and neutralized by main ingredient, activated charcoal.

Sharps & Medical Waste
Comprehensive medical waste management services for sharps and biohazardous waste generated in small to mid-size healthcare-related markets.
Pharmaceutical Waste
Complete medication disposal solutions for both healthcare and ultimate users, including collection receptacles, mail back envelopes, and pickup.